Box Culverts
BCP Precast manufactures Box Culverts to Australian Standards, RMS and QDMR.
BCP Precast is a Australian owned major manufacturer of reinforced concrete box culverts on the east coast. Competing in the market against foreign owned multi nationals, BCP has demonstrated that Australian ingenuity, flexibility and determination can meet any challenge.
Reinforced concrete box culverts are only a fraction of our range. BCP is the leading manufacturer of "custom" precast products made to meet specific client designs and specifications.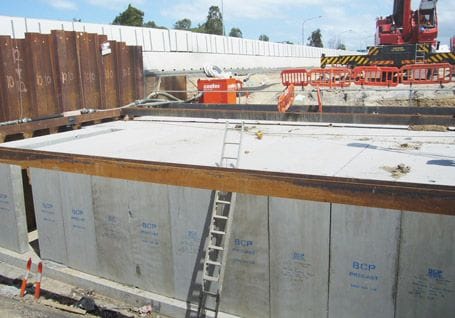 Our Range
STANDARD BOX CULVERTS
- Culvert designs that are made for best value
SPLAY CULVERTS
- Special tapered culverts to change the direction of the water flow or match the surrounding earthworks
CUSTOM CULVERTS
- culverts with special penetrations or blockouts
WING WALLS
- Wing walls to match culvert inlets and outlets
BASE SLABS
- Base slabs specially designed for precast box culverts